AlwaysON Skat
High-power LED spotlight for industrial lighting
LED Flood light series Skat - one of the powerful flood light . The housing design, the original idea of the lamp - very powerful LED spot light, the use of which is possible in various fields.
High protection class IP 65 - allows to use it as industrial lighting (industrial area), and as street lighting - parking lots, gas stations, advertising platforms, as well as to illuminate the buildings architecture.
Due to the large luminous flux luminaire can be used for high suspension.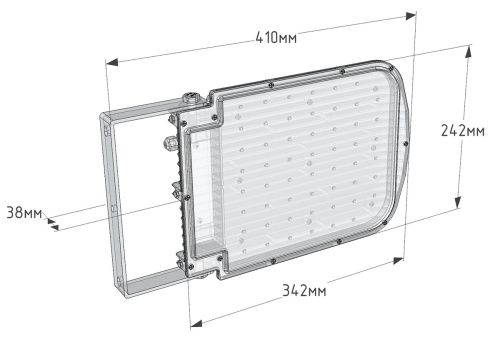 Fixing the Flood light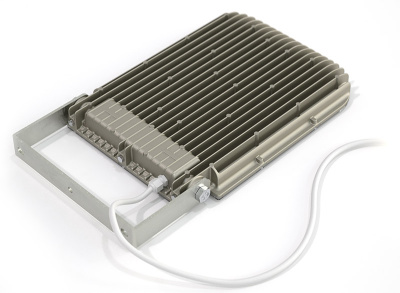 Mounting bracket
Features Flood light AlwaysON Skat
Specific features and unique characteristics distinguish Skat spotlight from their counterparts:
German high-quality LEDs with a new generation of OSRAM light output up to 130lm / W. Their time can last up to 100,000 hours, while reducing the brightness to 70%.
Treated with a chemical method body is protected from oxidation. Furthermore, it has high strength due to its unique structure, where the stiffeners as outdoor cooler cooled the lamp. This ensures normal operation of the instrument.
Durable glass-type polycarbonate microprism, capable of transmitting up to 92 percent of the light, incredibly durable in its characteristics and resistant to external environmental factors
The module is placed on the aluminum boards and circuit boards due to the low resistance is provided by the desired component mode, which gives the devil work disruptions for a specified resource
Own specially designed power supply using components for the duration of up to 80 000 hours with a minimum percentage of light fluctuations. On the principle of open-loop power supply will continue to work, but will increase the percentage of ripple.
High tightness floodlight is achieved by a special body linings, glass and silicone cords from Germany.
The luminaire has the ability to replace in part: a current source, LED module.
On lamps covered by the warranty - 3 years for models with constant voltage and 2 years with a variable.